Method 3: Password reset disk
If you can log in to a different Windows 8 account you can create a Windows password reset disk. With this disk you can reset your forgotten password. Obviously the only problem with this method is that you either need to have access to this computer (like through a different account) or you need to create this password reset disk before you actually forgot the password. Which makes this feature kinda hard to use.
Windows 8 password reset disk is a feature provided by Microsoft in order to allow users to reset Windows 8 passwords. You typically create such reset disk to your USB thumb drive and store it in secure location till it's needed.
To create the password reset disk:
Open the old Control Panel using the search box, and then pick User Accounts.
Click the Create a password reset disk option
Password Wizzard window will appear, follow the instructions displayed on the screen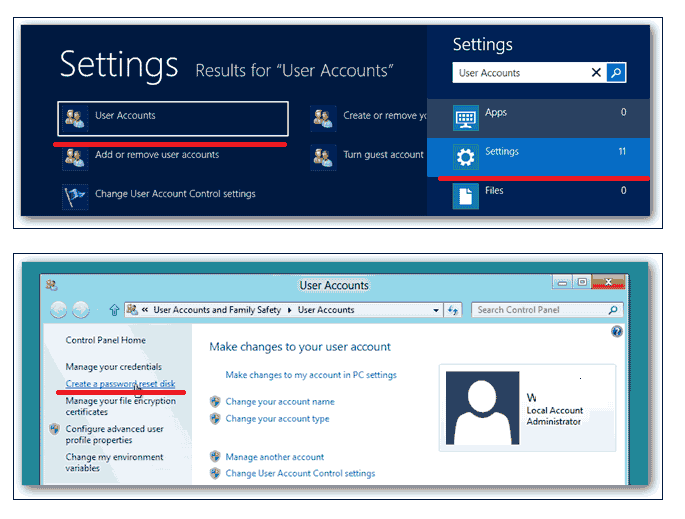 Once you've created a password reset disk, you can use it the next time you lose your Windows 8 password. So if you want to reset your password using Windows 8 password reset USB, follow these steps:
After you enter an incorrect password, Windows 8 will show a "Reset password" link, just like on the image below:

Make sure your created USB is plugged in and click the Reset password button; password wizard window should appear; click next to proceed.
Pick your USB flash drive from the drop-down list ("The password key disk is in the following drive")
Now you'll need to create a new password and, and a new password hint. See image below:

After everything is done, click "FINISH".
Great, now you have reset your Windows 8 password. Now you can reboot and log in with your new password.