Friendly Asked Questions (FAQ) / Troubleshooting
What does Kon-Boot do?
Kon-Boot is an utility that allows user to bypass the authentication process on Windows based systems, the password is bypassed not erased. All changes are temporary unless you decide to create new system account. Kon-boot is fast, reliable and unique.
Are there any permanent changes to my computer?
Nope, changes are only temporary - they are reset after machine reboot. (Exception: if you choose to add administrator account (Windows 10 case) you need to delete it later manually)
Tutorial 101 - BASIC HOWTO
How can I protect against Kon-Boot?
You can use hard disk encryption software like FileVault (Apple) / Bitlocker (Microsoft) / TrueCrypt or set BIOS/UEFI password in order to stop other people from using Kon-Boot on your computer.
Whatever you do remember old, basic security law: If a bad guy has unrestricted physical access to your computer, it's not your computer anymore..
Can Kon-Boot bypass hard drive encryption?
Nope, as stated in the system requirements section Kon-Boot does not support disk encryption.
Does Kon-Boot work on domain controllers?
Kon-Boot will not bypass authentication of domain controllers. Although there are instances where a client computer will locally cache a domain login, and Kon-Boot may work in this case. You can also try using Sticky Keys Feature to add new local system administrator account at this point.
My antivirus detects Kon-Boot as a virus, is it a malicious code?
Nope, Kon-Boot is not a virus and does not contain any malicious code. Antiviruses sometimes flag it as a "hacking-tool" and we can't really do anything about it. We suggest disabling your antivirus when creating a Kon-Boot CD, Floppy, or USB flash drive. If you want to read more about false-positive antivirus problems please click here.
Additionally please note Kon-Boot was firstly released in 2008 up to this day there are no reports whatsoever about malicious Kon-Boot behavior despite thousands of users worldwide. Many from who are top notch computer security professionals that hunt malware for a living.
How to temporarily disable Windows Defender
As mentioned above Kon-Boot is not a virus/malware but sometimes antiviruses like Windows Defender (default Windows OS antivirus) mark it as one and prevent users from using it. In order to download & install Kon-Boot antivirus should be temporarily disabled. In order to temporarily disable Windows Defender please:
Open Windows Defender Security Center, then select Virus & threat protection > Threat settings.
Turn off Real-time protection.
Video tutorial is available below:
I can't record my CD - the .iso seems to be corrupted
Please verify that you have disabled your antivirus. Please follow our CD tutorial while burning the CD. It is not recommended to use any other burning tools besides ImgBurn. Please remember that you have to burn the .iso image to the cd, simply putting the .iso file there will not work. If you don't see any files after burining the .ISO it is completely normal. Kon-boot is hidden into raw sectors.
My system does not boot from the Kon-Boot media. All I see is a black screen.
Typically it means that either the Kon-Boot media was not installed properly (see the installation tutorials). Other potential problem may be related to wrong BIOS boot priority. You should at least see Kon-Boot start logo to verify you have installed it correctly. In case you are using UEFI (typically on Windows 8 and newer) go to your BIOS settings and set the boot option to UEFI USB (UEFI Kon-Boot version requires USB). Please make sure SECURE BOOT option is disabled.
What does this error mean: "Error: Windows volume was not found"?
It means that you are trying to run Kon-Boot in UEFI mode but your Windows is not using UEFI loader. In order to fix this issue you need to either go to your BIOS setup and set the BOOT OPTION to USB (without UEFI) or manually delete EFI directory from the Kon-Boot USB media.
In which mode Kon-Boot was loaded?
Kon-Boot can be loaded by the BIOS in two modes (normal legacy BIOS mode or UEFI mode). Image below describes the differences between those two loaders. In short Kon-Boot loaded in normal BIOS mode displays big color logo while the UEFI one doesn't.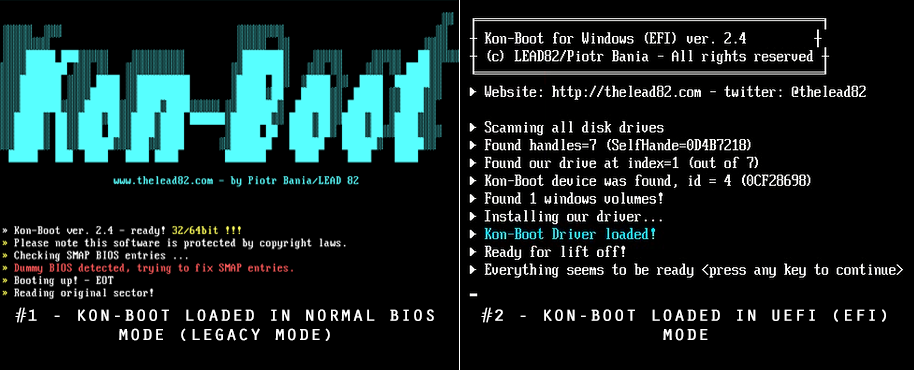 My Kon-Boot freezes at "reading original sector"
Typically it means your target system is loaded in UEFI mode (typical for Windows 8 and newer) and you are tying to boot Kon-Boot in normal/legacy BIOS mode (this is incorrect because in this case Kon-Boot needs to be booted in UEFI mode just like the Windows loader). Fortunately the remedy is rather a simple one.
In order to fix this problem go to your BIOS setup and pick UEFI USB as first boot option (not normal USB), please make sure SecureBoot option is disabled. Save the settings and boot the target machine with Kon-Boot again. To see whether Kon-Boot was loaded in UEFI mode see the picture above.
If your BIOS still doesn't want to boot Kon-Boot USB in UEFI mode (or doesn't detect the pendrive at all) please try manual installation to other USB pendrive (we strongly recommend using USB pendrives from reputable companies/vendors like KINGSTON, SANDISK, SONY.)
Additionally please make sure your system is not using disk encryption - disk encryption is not supported.
Windows loads but nothing happens
If you have installed Kon-Boot correctly and configured your BIOS to boot from Kon-Boot media you should at least see the Kon-Boot initial screen. If you can't see that screen please verify your Kon-Boot media and most importantly please check if you have configured your BIOS to boot from Kon-Boot media - this step is crucial.
Assuming you have seen the Kon-Boot initial screen, target Windows system loaded correctly afterwards but still after few minutes nothing happened:
Make sure your target Windows system is not using disk encryption - disk encryption is not supported
Some of the newest Kon-Boot features may be not present on some systems (due to system configuration) therefore we recommend trying the manual Kon-Boot USB installation and booting from this newly created media.
If this does not resolve your problems please contact us for support
I can't bypass online account on Windows 8/Windows 8.1
Remember to put any password in the password field (don't leave the field blank) and press enter afterwards.
Why I can't bypass my Windows 10 online password authorization?
As stated in the system requirements section Kon-Boot only works with local authorization meaning you are probably using authorization through online account right now. As a temporal remedy you can try using the Sticky Keys Feature to create new local system administrator account.
I can't see any USB devices in the Kon-Boot installer
Try closing Kon-Boot installer, unplug your device, plug it again and restart Kon-Boot installer. If the problem persists try different USB pendrive.
Yellow blinking screen on Mac OS / OSX
If this happens just right after you have performed Kon-Boot USB installation please unplug (eject) the Kon-Boot USB drive, insert it again and try booting with it one more time. If the problem continues the occur try using the Kon-Boot USB installer again. If this still does not resolve your problem contact us for support.
Red blinking screen / Red Guru meditation
If this problem occurs, please:
Make sure you are using original Kon-Boot pendrive (one that was used for installation using our installer, 3rd party installers are not supported). Please remember one Kon-Boot license allows you to install Kon-Boot on one USB pendrive.
If you are still seeing the red blinking screen (red blinking GURU frame) problem may be related to your target computer UEFI/BIOS. In this case please try creating Kon-Boot pendrive manually.
If this still does not resolve your problem contact us for support.
My USB got damaged during format process how to repair it?
USB disk especially those with larger capacity (32GB and more) can be temporarily damaged due to limitations of FAT32 file system or other unforeseen circumstances. In this case to repair your USB pendrive please download and use HP USB Disk Storage Format Tool (HPUSBDisk.exe). This process is really straightforward and does not require further instructions.
Why 3rd party loaders (like DriveDroid) are not supported?
We are a small company with very limited resources and we simply cannot provide support and testing for every 3rd party app out there.
Is it true legacy BIOS mode will be no longer updated?
Yes. Currently almost every new Windows 8 / Windows 10 operating system is installed in UEFI mode. Quoting Wikipedia on the subject:
With the release of Windows 8 in October 2012, Microsoft's certification requirements now require that computers include firmware that implements the UEFI specification. Furthermore, if the computer supports the "Connected Standby" feature of Windows 8 (which allows devices to have power management comparable to smartphones, with an almost instantaneous return from standby mode), then the firmware is not permitted to contain a Compatibility Support Module (CSM). As such, systems that support Connected Standby are incapable of booting Legacy BIOS operating systems.

In October 2017, Intel announced that it would remove BIOS support from all its products by 2020, in favor of UEFI Class 3.
Additionally Apple uses EFI for its line of Intel-based Macs. Therefore Kon-Boot will follow this transition and provide updates only for UEFI systems in the future.
I have bought newest version but the screen says differently (version mismatch)
Since Kon-Boot v2.7 one purchased license allows user to install on one and only one selected USB pendrive. Meaning the newest version will be installed only on this one selected USB pendrive (newest Kon-Boot files will be generated only for this device and they will not be visible in the installation package). For usability purposes, older versions of Kon-Boot will be allowed to be installed on a separate USB pendrive.
Additionally the normal (legacy) BIOS part version can be older since we are mostly focused on updating the UEFI part (as we have previously mentioned) and the normal (legacy) BIOS part is stable anyway.
In short the BIOS part version can be older, the UEFI kon-boot part gets updated (see previous point for details).
Error: this USB drive is using odd USBSTOR serial path
If you have seen "Error: this USB drive is using odd USBSTOR serial path , please consider using USB pendrive from different vendor" message it means that Kon-Boot installer has detected a potentially incompatible USB pendrive. Kon-Boot tries to detect potentially incompatible USB pendrives in order to minimize various BIOS problems in the future.
At this point it is highly recommended to use different USB pendrive for Kon-Boot installation (preferably from different vendor (manufacturer)). Basing on our experience KINGSTON, SANDISK pendrives are the most reliable ones but basically any pendrive which capacity not larger than 16 GB will do (as long as it is accepted by the installer and this error disappears).
Windows loading takes forever
If you feel like your Windows loading procedure (while booting from Kon-Boot USB media) takes forever (meaning you can see the Windows loading circle spinning forever, black screen or just Windows logo displayed forever) you can try manually deleting "konexec32.exe" and "konexec64.exe" files from your USB Kon-Boot pendrive. After doing that please try booting the target machine with Kon-Boot again.
Windows blue screen (BSOD)
Please follow steps written below:
Make sure your target Windows system is not using disk encryption (BitLocker etc.)
Make sure you have disabled virtualization support in your BIOS
Try unplugging / plugging the Kon-Boot USB pendrive and booting the target machine with it again
Try manually installing Kon-Boot to different (preferably) USB pendrive
If Windows is loaded and blue screen happens after a some period of time you can try using Sticky Keys Feature. There is an possibility you will make it in time and this time window will be enough to create new administrator account.
If none of the solutions worked please contact us for support.
Program can't start because MSVCR110.dll is missing
Typically this error shouldn't happen at all but if by any chance you see an error message box ("Program can't start because MSVCR110.dll is missing from your computer.") while running Kon-Boot installer it means your system is missing some libraries that should typically be there by default. The easiest remedy for this error is to install Microsoft's Visual C++ Redistributable for Visual Studio 2012 Update 4 for both x86 and x64 architectures.
Image did not authenticate during booting
It means you have not disabled SecureBoot in your BIOS setup. As stated on our website Kon-Boot requires SecureBoot to be disabled in order to work. Please enter your BIOS setup, set the SecureBoot option to DISABLED and try booting with Kon-Boot media again.
How to report bugs/problems and seek support?
First of all make sure your problem is not already described in this FAQ section - please try using the search option above.
If you are active license holder (your free support period has not expired) feel free to contact us with your problems. To make our job easier and shorten the response time of our team please follow rules below:
Please describe what type of problem you are dealing with:
If you are dealing with Kon-Boot installation problem, please provide the "konlog.txt" file generated by our installer. In case there is no log file please describe what is happening (is there any error displayed, do you have administrator rights for the installation purposes?)

If you are having troubles with booting your target system with Kon-Boot USB please provide a sample video showing problems you encounter/the booting process with Kon-Boot media (you can use your cellphone to record one). Such video will help us tremendously with detecting the problem and will speed up the entire support process. Additionally it is required by our refund policy (unfortunately we are dealing with large number of paypal scammers so this video file also helps us with filtering such cases). Thank you for your understanding.